My thoughts on everything Snap launched yesterday
And it is a lot. On June 11th, Snap Inc hosted its Snap Partner Summit and unveiled new features that the camera company has been working on in the past year. Here's everything the company released, in case you missed it, and my thoughts about it.
While the majority of new features directly impact Snap's flagship product, Snapchat, there are a handful of cool things they're also trying with Bitmoji. Besides opening up more of their technology to developers, these newly announced releases re-enhance the app's appearance, functionality, and content.
---
Mini's
Minis is a suite of bite-sized utilities made by outside third-party developers that run inside of the Snapchat app. With no additional installation required, Minis are built using HTML and enable friends to easily share experiences with one another. Minis are integrated into the existing Snapchat chat window and is the company's attempt to imitate WeChat in the West - raising the bar for a new social experience for group interaction.
For the first time, Snap will allow external developers to build and integrate lite versions of their apps. While Snap isn't making money from the mini programs yet, CEO Evan Spiegel told The Information it could "over time." The miniature applications generated $113 billion for WeChat in 2019. The company takes a cut of all purchases made through the app.
Snap announced 7 different Minis to start. Coordinate your schedule at the next Coachella, meditate with friends on Headspace, select movie times and seats through Atom, share your class schedules on Saturn, make predictions on the sneaker stock market using Prediction Master, and study together on Tembo. About Minis, Spiegel said, "Let's say you're getting ready with your friends […] You can actually shop together with your friends, which I think could be a really fun experience."

My take:
I believe out of all the features announced, Minis have the most potential to change Snapchat. Not only will this change how users interact and use the platform on a daily basis, but it could very well change the reason why they use the platform at all. The network effect could persuade users onto Snapchat because their circle of friends are all utilizing Minis to plan something as a group. Soon, someone's entire experience could live within the Snapchat app. Users already use the app to communicate with friends - once Minis expand to essential tasks such as paying bills, it opens the door for Snap to own every digital touchpoint in a user's life. It's Snap's first step to becoming a super app in the West. Furthermore, as exemplified through WeChat, Minis has the opportunity to diversify Snap's revenue stream - which has for long depended on ad/brand partnerships. Minis is also one of the handful of features announced by Spiegel to target and entice more developers to build on top of their technology.
---
Maps
Snap Maps has long lived in Snapchat. With Snap's acquisition of Zenly and Bitmoji, the company built a social-friendly visualization of your friend's locations, with the ability to also see what they're doing (users can attach a specific status to their location: cooking, studying etc.)
Moving forward, Snap says it will begin to display local business information on Snap Maps, along with the app redesign. The details would include location, address, hours of operation, and reviews sourced from TripAdvisor. Apparently used by 200 million people monthly, Snap Maps will also enable users to order food via the map through delivery services like Postmates, DoorDash, and Uber Eats. "We're surfacing places that are popular with your friends and in the community," Spiegel said. "But I think it is really important to add places. It's almost kind of silly we haven't had them for so long."
My take
Spiegel has done a great job of adding another possible revenue stream for the app. With this update to Snap Maps, it will inevitably increase the value of business ads over time. The company is making headways to building a community, where your actions to do something may be induced by seeing your peers doing so. This is obvious through Minis, but further emphasized by Snap Map's update. Moreover, Snap has left Snap Maps stagnant for way too long, without real plans to gamify or monetize the feature. These missed opportunities are finally being capitalized - in addition to missed resources and expertise from its Zenly and Bitmoji acquisitions.
---
Games and Bitmoji
Two things. Firstly, Snap announced a slate of 10 new games to the app. An example is Bitmoji Paint, which leverages the digital avatars Snapchatters have created, and invite all users to paint their part in a worldwide collage. Snap found that Snapchatters who played with friends played twice as long as solo players, such as their top game Mojiworks' Ready, Chef, Go! that touts 25 million unique users (1 of them being myself).
Secondly, Snap opened up its Bitmoji Kit for game developers. Scrabble GO and Uno are some of Snap's launch partners, who will be using the Bitmoji Kit to fetch user's avatars and make them available within their own apps. Since Snap made Snap Kit available, over 800 apps have integrated with Snap Kit, and nearly 150 million Snapchatters are engaging with these integrations every month. It has only been little over a year. Snap Games that live within the messaging window are also popular, with the company reporting that more than 100 million Snapchatters have tried it out to date. Bitmoji for Games officially bring the power of 3D Bitmoji avatars to non-Snap games. According to the company, gamers can finally play as their Bitmoji in various titles and genres across multiple platforms.
My take
Easy to infer that Snap has launched Bitmoji Kit with the same core intention and principles as Snap Kit. It is hoping to attract more partnerships and game developers to incorporate Bitmojis within their applications. Besides Apple's Facemoji technology that comes pre-installed with iPhones, there really isn't another app as well-known for creating virtual avatars for users. By seeing more Bitmojis pop up in apps that people frequently use, it will soon become synonymous with someone's digital identity. Additionally, since Snapchat only provides a mobile experience for now, it relies on third party developers to expand Bitmoji to various platforms. This may eventually change the experience of PC and console gaming, since playing as an avatar that was created to look exactly like yourself encourages a more personal experience. Currently, Snap's list of partners are still made up of predominantly board games and casual mobile games. But imagine playing as yourself on a game like Just Dance - would you ever want to go back to the default characters after that?
---
Camera
The next kit! Snap is letting developers in on its 8-year camera technology, Camera Kit. Similarly, third party developers can now license Snapchat's camera software, with filters and AR overlay features, to incorporate within their own apps. Launch partners include Nike and MLB Ballpark.
These apps are now able to import Snapchat's advanced AR capabilities and camera engagement to enrich their app's experiences. This is closely related to the next section about Lens.
---
Lens
According to Snap, Snapchatters have made over 1 million unique lens so far. Now empowered with machine learning, its camera is getting smarter. This is an update to Lens Studio, which will allow developers to import any machine learning models to embellish filters. In its summit video, Snap showed a user saying, "Hey Snapchat, make my hair pink!" before her blonde hair transformed to pink on the screen while taking a selfie.
Local Lens, as reported, will let users team up to decorate nearby buildings with digital paint as part of a shared augmented-reality world. On top of this, Snap introduced a new kind of filter called Dynamic Lens that encompass real-time information. A good example is any sports-related filter. When the Toronto Raptors play in the NBA Championships again this year, I can include this filter and have the current scores update in real-time.
My take:
This is a bold move by Snapchat that will help accelerate the quality of many applications, beyond its own. Snapchat has built one of the top camera technologies out there, especially embedded in a social media app. Personally for me, Instagram, who also has a camera feature within their app, cannot even compare. This move also invites opportunities to collaborate with rising apps like TikTok that also invest in emerging technologies within its camera function. Allowing developers to import their own machine learning models, for example, will only improve the average Snapchatter's experience and impression of the app. This further adds to my hypothesis that it is only time before all entertainment and communication by a Gen Z is done within the bright yellow ghost emoji application.
---
Scanner
One of my favourites, actually. Snap announced a scanner that can accurately scan and identify 400 breeds of dogs, and 90% of plants and trees. The company is looking to build around this scanning technology in the near future, such as their collaboration with Yuka that will allow users to scan packaged foods for nutrition information.
My take
I am first in line for the dog scanner! Just need to get a dog.
Also, for the record, Jing-yang thought of this first.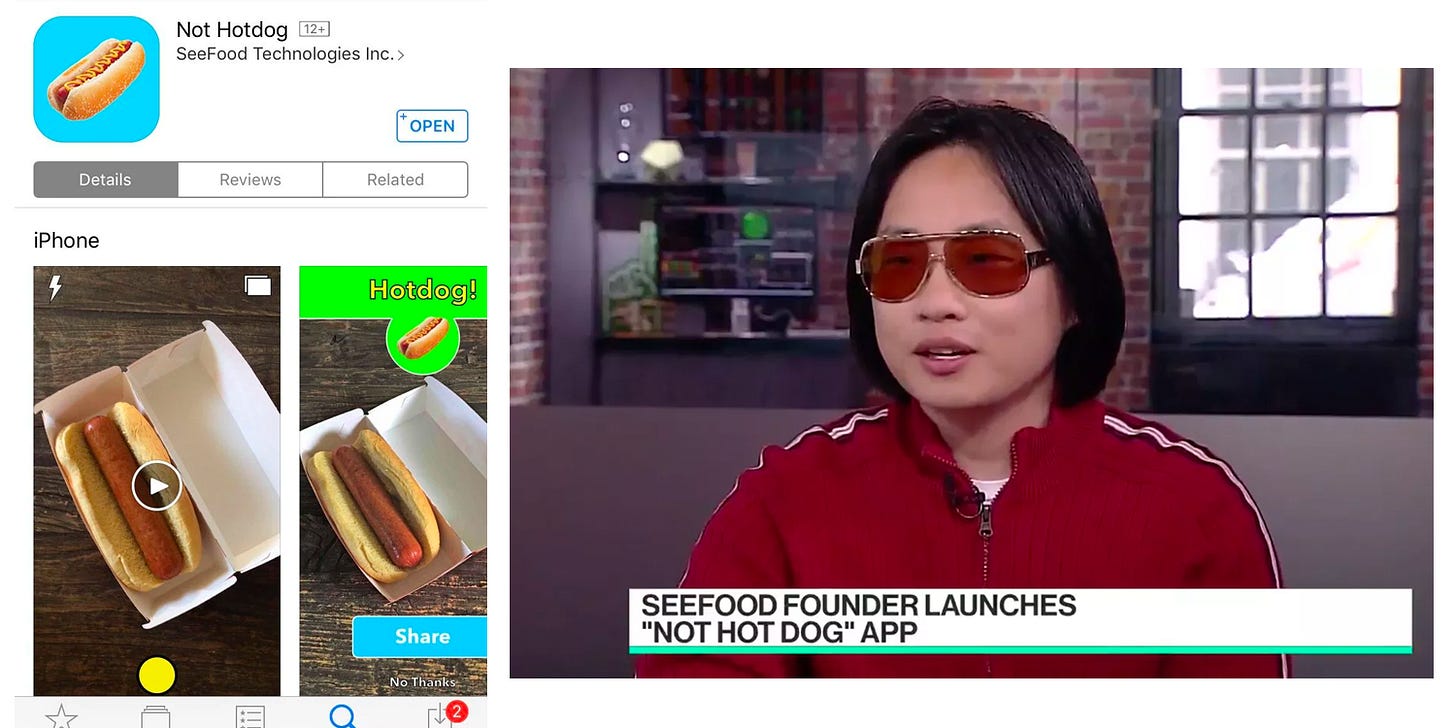 ---
Snap Originals
Snap is adding new titles to its series of original shows. The company said that it currently has 350 global partners on Discover, creating shows for the app's users. "More than half of the US Gen Z population are watching Snap Originals […] And for the first time, Snapchatters can become part of the show!" In addition to the numerous new Originals that Snap will premier, the company will leverage their unique AR technologies to deliver more immersive content. For example, users will be granted to ability to learn dance moves from its dance-based series, Move It. The show uses Snap's custom motion tracking technology to keep up with the viewer's every step. As mentioned, these AR titles will join new shows of the usual genres - documentary and scripted content.
---
Here are some features that more or less impact Snapchat's look. I don't hate any of them so I thought I would just list them for you.
Navigation bar
Part of the redesign is giving Snapchat a long overdue navigation bar. Perhaps this is also the company's strategy of offering more visibility to the new Snap Maps. The company will also centre the design around Snap Originals so it becomes more prominently featured.
Happening Now
Snap said that over 125 million users watches its news stories, so it has decided to launch a new feature called Happening Now. It lives in the Discover tab as a news aggregator that highlight updates on politics, sports, entertainment etc. Happening Now will compile popular and important content from news partners, to summarize in a banner at the very top of the tab.

Safety check
Snap launched a new safety notification that prompts all Snapchatters to do a cleanse of their friends list. The purpose is to have all users review their list of friends to ensure that they are only connected with people they know and trust in real life.
---
Wellness tools
Called Here For You, this tool equips Snapchatters with expert resources on topics related to emotional and physical wellbeing. Particularly during COVID-19, people can feel an increase of emotions like anxiety and depression. The feature also offers help and guidance for those suffering from domestic violence or bullying. Snap says they are creating a new Here For You centre within user's profiles to contain this hub of resources.
Snap announced an in-app reporting tool that will allow Snapchatters to send alerts when they suspect their Snapchat friends to be at risk of self-harm or mental issues. Snap says they are going to show Snapchatters who have been reported, instructions on how to get help as well as hotline numbers.
My take
Obviously, Snap is not trained nor certified to offer counselling and professional advice on health issues. With this feature, users report to Snap who in turn, notify the reported friend of help that is available to them. Snap should be wary of being an intermediary of medical services. Younger people, which make up the primary user base of the app, are significantly impressionable, and may see Snap as the representation of wellness support. Which it certainly isn't. In this case, a Snapchatter may think they have done their part by simply reporting to Snapchat, which is a social media company, not a health authority. Nonetheless, I think the company has good intentions of helping to make services with trained professionals more accessible. It just has to be careful with drawing the line, and stating clearly of its role.
---
How excited are you? I'm on my way to buy some NYSE:SNAP stock right now.
Read more on diane.substack.com