Social commerce is the future
It's not "meet me at the mall!" it's now "join me on Pinduoduo!"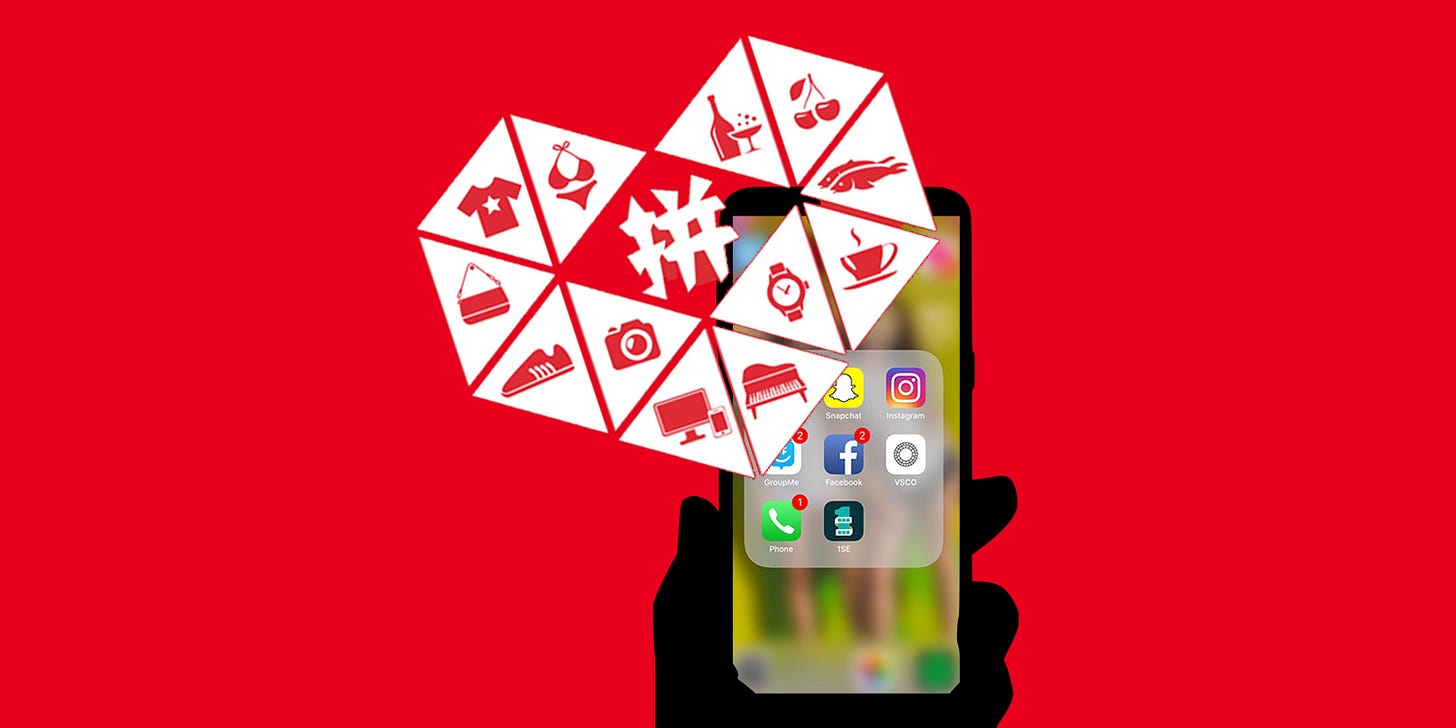 The World Health Organization estimated that the average lifespan for an average person is 72 years. The average internet user spent 2 hours and 22 minutes daily on social media in 2019. If we assume that someone starts using social media at the age of 10, this means that a person will spend more than 6 years of their life just on social networking platforms. As accessibility of technology increases, more than 3 billion people around the world are expected to be on social media by 2021.
This is why social commerce is important. Imagine the potential shopping, an activity we all do, has, if seamlessly integrated in the social technologies we already use and experience everyday.
---
How is social commerce different?
E-commerce provided an alternative to physical retail stores and shops. It requires, however, substantial effort from the consumer to search and qualify products that they deem worthy of a purchase. E-commerce sites are not designed for casual experiences that can imitate offline activities like window shopping - instead requiring the user to more or less already know exactly what they need to buy. Social commerce, on the other hand, fills that void.
Shopping offline is inherently a social experience. Many people visit the mall in groups and browse shelves with little intention of knowing what they're shopping for. Unlike e-commerce, social commerce is so popular because it is social by nature. If I see a nice pair of Jordan's at Footlocker with my friends, I would want to hear their opinions before deciding. Also, since it's not exactly an necessity, I am more likely to go through with the purchase if they decided to match and we all buy it together.
Think of social commerce as moving this entire shopping experience online, and possibly embedded into familiar social media apps we use everyday. The discovery, consideration and decision elements that make up the process of a purchase are all digitalized.
---
Pinduoduo (拼多多)
Founded in 2015, Pinduoduo (PDD) has a name that literally translates to "group and combination brings more savings" in English. In 5 years, PDD has grown to become the leading interactive commerce platform with a market cap of $97.95 billion. In its home country China, PDD is the 2nd largest online marketplace by user count and number of orders. It has amassed an impressive amount of 585 million active buyers, who generated a gross merchandise value of $144 billion in 2019. The biggest appeal on the platform, which has persisted and evolved since 2015, is the group buying function that echoes its name - more people joining in on a purchase leads to more discounts. The natural network effects of this is tremendous.
PDD's fiercest Chinese competitors are Alibaba and JD.com. Both companies have released rival products that replicate PDD's social model of group buying. According to CNBC, a majority of PDD's user base actually hails from smaller Chinese cities given their frugal and price-sensitive consumer behaviours. My personal experience aligns with this observation. I am from Fuzhou (which recently got upgraded to a tier-3 city in China), and everyone in my family and relative circles use PDD at least on a weekly basis. Even though I'm located in Canada now, every time my phone buzzes with a WeChat notification, it's likely someone sending a PDD link in the Family group chat urging us to participate in the sale. On the contrary, Alibaba and JD tend to hold more dominate roles in the tier-1 cities.
---
How does PDD work?
I will provide a brief explanation of the main functions of the app. PDD's social shopping model encourages its users to bring their friends into the app and consequently take part in their purchasing experiences. This is done through sharing a link to a product on PDD. Each item requires a minimum number of people joined to activate the price (think all-in GoFundMe campaigns), and incremental savings are induced with more people. Buyers also have the option to individually buy an item, but the group price tag will always be the better deal.
Based on your purchase habits and past orders, PDD has a robust recommendation engine that will personalize the shopping experience to you. Beyond what Amazon can do, PDD is capable of linking recommendations based on what's popular amongst your real friends, and tailor those recommendations based on purchases from the same people you brought into the app.
---
How is PDD performing?
PDD takes commission from every sale that's made on its platform. Similar to e-commerce sites, PDD also generates revenue from running ads. Something worth noting is that Alibaba and JD can count on other sources of revenue from their business units such as Alibaba's cloud computing, but PDD's income stream is narrower in comparison.
In the December 2019, PDD's revenue reached $1.55 billion, a 91% year over year growth rate. It was found that 55% of its revenue still stems from tier-3 cities or below in China.
Just last week, PDD founder and CEO Colin Huang surpassed Alibaba founder Jack Ma to emerge as China's 2nd richest man, with a net worth of $45.4 billion. Huang is only second to powerhouse Tencent's CEO Pony Ma. The jump is thanks to PDD's gains on NASDAQ, where its stock price has more than quadrupled in the past 12 months.
---
PDD's entry and journey
PDD's early success, in a way, is owed to China's number one messaging platform WeChat. The company's entry was made easy by operating through WeChat whose parent company Tencent, is an investor in PDD. In fact, PDD was only accessible via WeChat for an entire year before the social commerce company made a separate app. Buyers on PDD used WeChat Pay as their wallet, and shared PDD links in chats without navigating away from the WeChat app. This was a lean entry strategy because of WeChat's mass exposure, allowing PDD to validate their value proposition and demand with lower customer acquisition costs. WeChat, which boasts over a billion active monthly users, continued to aid growth and expansion even after PDD launched their standalone app in January 2016.
PDD is special because of its ability to build a strong network effect with its services. The selling point of group buying and social shopping establishes a referral loop by itself. As a result, PDD's direct buyer traffic is primarily organically generated from word of mouth referrals by its existing users.
Its unique position in the e-commerce space also allowed it to outshine some of its competitors. As I mentioned, social commerce is unlike search-based websites offered by Alibaba's Taobao or JD.com, but it is focused on delivering an interactive experience that mimic offline shopping. The fuse of its offline-to-online technology with its built-in high circulation of referrals has attained the company, in 2019, over 500 million active buyers in 4 short year - a feat that Alibaba took 15 years to achieve.
---
How PDD matches up to e-commerce competitors
The main difference is the one I have previously outlined. PDD was created with an emphasis on adding fun factors into online shopping. Alibaba, JD and even Amazon place emphasis on efficiency and purchase rates. To me, it's like picking between a one-way retail experience where I swipe my credit card after entering the exact search term, or going on a shopping trip with my friends where I value the social aspects of our friendship to inform my ultimate purchase decision.
What PDD has, that e-commerce companies like Amazon don't, is its referral program that creates an endless loop of acquisition. Acquiring new users through referrals reduce churn and increase retention. According to data from TheTool, an app's referred users are 18% more loyal than those acquired through other marketing channels. As a matter of fact, the lifetime value of a referred user is found to be approximately 16% higher.
Moreover, their team purchase model has helped to build and strengthen a community of friends and family shopping online. Perks that a customer can get from shopping in real life stores, such as rewards or card programs, also live on PDD. The app is like an upgraded mall-browsing experience, but with additional gamification and engagement features that would not be possible offline.
One of my favourite strategies by PDD is its creative mini games that retain users while simultaneously motivating them to buy more. For example, Duo Duo Orchard is an in-app mini game that allows users to grow and nurture a virtual tree through their purchases. Every item purchased is converted into a water droplet that waters the user's tree. When the tree is filled with fruits, the user can then request for a real box of fruits to be shipped to them, free of cost. It's a smart, entertaining and innovative play on the physical stamp-card model.
---
Risks from competition
PDD's strongest appeal is also its largest risk. The social shopping model is not difficult to imitate, especially by large retail companies that have the resources and an existing customer base. JD in recent years rolled out their version of a group buying app called Jingxi. The app, like PDD, is also accessible through WeChat. "From the prospective of end customers, the value proposition of PDD is not as prominent as before, because [both Alibaba] and JD both rolled out their [social commerce apps]," iResearch research director Choi Chun tells CNBC.
The looming threat from big tech companies poses a huge risk to PDD. In the same article, Chun also indicated that Alibaba and JD have been warming up to local factories for the C2M model of business. Additionally, these e-commerce giants already have strong logistics capabilities they've amassed over the years, and the technical talent to outcompete PDD. The frightening threat is for these intimidating players to penetrate both supplier relationships and buyers reach in tier-3 cities. Then, a pricing/promo war will likely materialize with PDD receiving the short end of the stick. A platform like Taobao can leverage its massive economies of scale to lower prices below cost, or simply fund the deficit with its parent company's bloated bank account.
Furthermore, I stated that PDD possesses slimmer margins due to its lack of diversification in the company's business areas. Alibaba, not only an e-commerce giant strapped with infinite resources, but enjoy an influx of cash from other services like its cloud computing division.
The threat from competitors continue in the arena of data and personalization. Due to how large search-based e-commerce companies have been, they've collected significantly more data and insights on consumer shopping behaviour. Just like how PDD leverages their data to optimize the shopping experience, Alibaba and JD can reach the same level of personalization.
Nevertheless, the easily imitable characteristic of PDD will also make it easier for expansion. PDD has helped to cultivate a digital model of social shopping that can also be wielded by new startups globally. The Chinese company's rapid success signals a trend that will undoubtedly upend online commerce in social-driven categories, with lessons that can be applied universally.
---
Groupon vs. PDD
Groupon is probably the closest competitor to PDD in the West. Groupon is also the first app I thought of to compare with PDD because of how alike they are in driving the action of group sales.
Although Groupon enables a form of team buying, there are a number of noticeable differences that underline PDD's superiority. Firstly, Groupon's offering is almost strictly of one-off products that haven't sold out or fails to sell well. Secondly, these offerings are usually hyper-targeted to local buyers due to the fact that they must be redeemed at that location. PDD, in comparison, is used for everyday goods that a consumer is likely going to buy anyways - but can now reap a great deal off of it. PDD has also been expanding its merchants from China to all over the world. Buyers on Groupon are also less likely to share and invite their friends unless they are apart of that one-off local experience the person is purchasing. In addition, sellers dictate the discounts on Groupon, so what incentive do I have to invite more people? Groupon, at its current state, would never be a top-used app for me because I have virtually no appeal for browsing non-personalized (almost random) items, that are probably excess inventory merchants are getting rid of in bulk.
---
Social commerce in the US
Already, there are an abundance of indicators that prove US consumers are ready and eager for a more sophisticated and social form of commerce. I will list a few quick examples.
Instagram shopping: The social media platform made it possible to "shop" while browsing your feed. According to Instagram, over 130 million people tap on shoppable tags placed on posts each month. Introduced in 2019, Instagram enabled its users to check out in a frictionless experience if they purchase something from its shoppable brand posts.
Pinterest buyable pins: Buyable pins were released on June 2015, similar in style and function to Instagram's shopping tags. Research from Pinterest discovered that 93% of its users rely on Pinterest to plan their purchases, and 87% makes a purchase after seeing something they like on Pinterest.
Social media influencers: Brands flock to influencers to help market their products to consumers. Consumers, in turn, trust and listen to influencers on social media as if they were friends. Per Business Insider Intelligence, brand companies are expected to spend $15 billion on influencer marketing by 2022.
There are offline indicators as well.
While I was planning this article, I came across an interesting piece on WSJ about how the pandemic has ushered in a surge in department store shopping in the US. The article highlights how TJX departments stores have long catered to shoppers who enjoy the "treasure hunt" experience of browsing aisles. Shoppers have been flooding the company's recently reopened stores, subsequently pushing sales higher than they were in 2019. One particularly passionate customer who waited in line for the store to open was quoted saying: "I love the deals."
An app like PDD is essentially an online department store with steals and deals, not to mention the treasure hunt-esque experience it offers.
---
Final takeaways from PDD's story:
Although the West can't copy and paste the Chinese company's model, here are some of the top lessons I believe we can learn from PDD:
Combine offline - online: what a shopper can get offline, they should be able to get online. But not always the other way around. Go the next level by offering consumers what they can't get offline and they'll likely stick around.

Focus on products/services people were going to buy anyways: PDD is so successful because of the wide array of daily products from kitchenware to bathroom towels. Groupon is great for one-off promotions, but that makes them unlikely to be a daily-used shopping platform.

Create key incentives for people to bring on other people: Re-emphasizing something I've repeated many times in this piece. You have done something right when your app grows through referrals.

Play into the advantage of being online and globalize the store: Don't limit yourself to local offerings when tech is so powerful! Give people another benefit of shopping online by providing access to global products they can't easily access in real life.

Enter through a trusted and widely-used social media: PDD did with WeChat.

Gamify the experience: important.
It's no longer just about inventory and pricing - PDD introduced the need to design for interactiveness and personalization on a whole new level. The new funnel in online commerce is here, and it is all about social.
---
Read more on diane.substack.com

All figures in USD ($)